Dabur DantRakshak Toothpaste Free Sample
(Freebies) Get Free Sample Of Dabur DantRakshak Toothpaste
---
Dabur DantRakshak Toothpaste Free Sample – Hi Guys, Here is One More Freebies Loot For You. Today You Will Get Free Dabur DantRakshak Toothpaste Samples.
We Are Posting daily Freebies Offers & Free Samples In India Loots. Here is One More Free Sample Loot From Dabur. Dabur is Giving Away Free 'Dant Rakshak' Toothpaste For Limited Number Of Users For Free. Follow Below Steps To Grab This Sample For Free.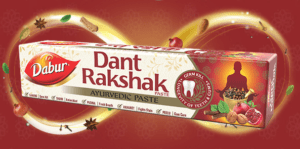 From the House of Dabur, Dant Rakshak ayurvedic paste features 32 potent ayurvedic herbs that are known to give you a multitude of oral care benefits, which helps you build the longevity of your teeth and gums. Dabur Dant Rakshak has 32 effective ayurvedic herbs that offer a solution for oral problems such as toothache, cavities, swollen gums, pyorrhea, tooth sensitivity problems, and bad breath.
---
How To Get Free Sample Of Dabur DantRakshak Toothpaste :
" Offer is Valid From 1st October to 30th November 2020 "
50000 Users Will Get This Sample
1. First of all Get your Phone in your Hand and Go to Dial Key Pad.
2. Dial Given Number and Give a miss call on :
7280072800
3. you will receive a message with dabur DantRakshat Registration link.
4. Submit details like your address and current toothpaste detail and Submit that Form.
5. You will Receive the Confirmation message on your Mobile number.
6. You will get your Free Sample Product on your door steps within 10days.
Check others free samples here – CHECK NOW
---
Terms & Conditions :
The participant (hereinafter referred to as the "Participant") can be male/female, above 18 years of age and a citizen of India. Participant should have a firm contractual capacity.
No employee of the Organiser, orany of their family members are eligible to participate in the Contest.
Toll Free No. will be live from 1st October to 30th November 2020. And the campaign would be held in from 1st October –30th November 2020.
Participation is optional and constitutes acceptance of these Terms and Conditions
No entry fee or purchase is required for participation.
Participants are required to follow the instructions sent in the follow-up SMS carefully and are requested to fill-in the details in the web portal.
Participants are entitled to have a maximum of 1 free sample per mobile number.
The first call from a unique number and details filled-in will be considered as registered participant
An entry will be considered valid only when the current toothpaste is not a Dabur paste and has shared a proper address sand is serviceable by the courier partner
The participants would register for the campaign on our toll free no. 72800 72800.
From the registered participants, first 50,000 participants with a valid entry will be entitled for the Dabur DantRakshak Exchange Pack.
Every participant would be informed through an SMS, if he/she is a winner or not
The list of available serviceable pin code scan be accessed at http://dabur.mobikonnect.in/pincode.pdf
Only serviceable pin code entry shall be considered as valid
The courier agency shall attempt 3 times to deliver the packet and if by any reason the packet is RTO (Returned to Origin), same shall not be sent again to participant. In this case participant has to collect the packet on its own from agency.
For any complaint or query, you may write to [email protected] call on 01204418397 between 10 am –6 pm on any working day except public holidays
Under any circumstances, Dabur shall not be responsible for any medical and / or health related issues