Brand Factory Free Shopping Weekend
Brand Factory Free Shopping Weekend : Brand factory is known for offering attractive offers over the time. Last time we have shared the details of Brand Factory Unbranded to Branded sale and this time we are sharing the details of New Brand Factory Free Shopping weekend sale  where You will get Shopping worth Rs.5000 Effectively free.
Before Reading Further, Also You can check out our latest Technical Tricks and tips from Technical Guruji here.
---
Brand Factory Shopping Weekend Date & Time 
Date – From 12th December to 16th December.
Time – From 8AM morning (For Premium Pass Holder) and 11AM for Regular Pass holders
Offer Available On – Brand Factory Outlets.
Premium Pass  – Rs.250 and Classic Pass – Rs100.
---
How to Grab Free Rs.5000 shopping?
First You need to Buy Entry Passes from Brand Factory Official website by choosing a date from 12th to 16th Dec.
Buy Passe From Here – Buy Passes
Premium – Premium passes (INR 250) that admit two, and allow early entry to the store (8AM onwards) so that you can be the first to get your hands on all the best merchandise!
Classic –  There are limited  The Classic Pass (INR 100) guarantees entry to the store after 11 AM.
The cost for both types of passes will be refunded to you, in the form of Unconditional Gift Vouchers.
2. After Buying the passes just visit the Nearest Brand Factory store on the booked date
3. Buy Product atleast worth Rs.5000, You Will have to pay Just Rs.2000 On Rs.5000 Shopping Of Anything , You Will Get That Rs.2000 Back too as following
1. you'll get Free Apparel Worth Rs.500 
2. Rs.1200 Gift Vouchers will be given (600*2)
3. Rs.300 Cashback In Future Pay Wallet .
(500+1200+300 = 2000 Means, 100% cashback)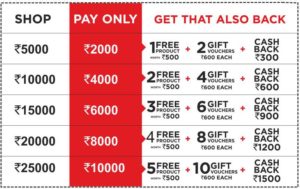 4. That It, Njoy Free shopping worth Rs.5000 From BF.
5. For Getting such kind of Offer on Your whatsapp Plz Send JOIN to 7008328667.
---
Cities applicable For Brand Factory free shopping.
The sale is happening in Mumbai, Bangalore, Hyderabad, Pune, Kolkata, Chennai, Guwahati, Bhubaneshwar, Nashik, Asansol, Ahmedabad, Ujjain, Raipur, Ghaziabad, Delhi, Kanpur, Vijaywada, Hubli, Mangalore, Mysore, Thiruvananthapuram, Calicut, Vadodara, Surat, Indore, Jaipur, Lucknow, Patna, Vizag, Agra, Allahabad, Amritsar, Aurangabad, Bhuj, Jammu, Salem, Zirakpur, and Coimbatore.
Terms and Conditions for Ticketing
Keep customer copy of entry pass with you which is redeemable for next month's shopping
Management reserve the rights to restrict or withdraw entry at any given point
No duplicate voucher will be issued if lost or misplaced
Free entry for kids below 12 years
Limited Premium passes
Pass amount is refundable in the form of gift vouchers
Entry Voucher valid only for 1 time entry and is non refundable
Admit two on single Entry Voucher
Entry Voucher cannot be exchanged for cash or cheque
The holder of the Entry Voucher deemed to be beneficiary
Any dispute should be referred to the company and the decision of the company shall be final
Pass is only valid for the store selecting while making purchase
A pass booked for a specific date is valid only for that day and cannot be used on any other day.
Terms and Conditions :
Offer applicable on all merchandise in the store
Any number of merchandise can be clubbed together for the billing of INR 5000
No two offers can be clubbed together
Free Apparel available on select brands from 'Free Apparel zone' inside all stores. This needs to be picked before billing from the said zone
Correct mobile number is mandatory to avail cash back in future pay
For the free apparel, multiple pieces totaling with INR 500 is allowed
Customer has to pay difference amount if MRP of free merchandise is above INR 500 (for e.g. MRP of free merchandise is INR 799 customer will pay INR 299 (INR 799 – INR 500)
Taxes extra
Future pay cash back will be credited every month starting Jan'19 @ INR 150 per month
Maximum cash back of INR 1500 per bill download future pay app to get cash back
Frequently Asked Questions 
Q) What do I get Free?
A) When you shop for Any apparel & footwear worth Rs. 5000 MRP and you pay only Rs. 2000. You get that amount back via an Apparel worth Rs. 500 (from free merchandise zone), 2 Gift vouchers Worth Rs. 600 & Future Pay wallet cashback of Rs. 300 (Rs. 150 for 2 months).
Q) What if my shopping is worth less than Rs. 5000 MRP?
A) In this case you get a Flat 60% discount on the MRP on ALL apparel and footwear.
Q) What if my shopping is worth more than Rs. 5000 MRP?
A) All multiples of 5000 MRP (10000, 15000, etc.) will be eligible for the offer. For e.g. if your bill value is 10000 MRP, you will get a Flat 60% discount (You pay Rs. 4000) and get 2 Apparel worth Rs. 500 free + 4 GVs worth 600 free & Future Pay wallet cashback of Rs. 600 (Rs. 150 for 4 months)
Q) What if my shopping is worth Rs. 7000 MRP?
A) For e.g. if your bill value is 7000 MRP, you will get a Flat 60% discount and you will eligible for the Freebies of 5000 MRP slab (get Apparel worth Rs. 500 free + 2 GVs worth 600 free & Future Pay wallet cashback of Rs. 300)
Q) Can i redeem my Payback points for this offer?
A) Yes
Q) Can i pick any Apparel worth Rs. 500 in-store?
A) No, the select brands of Apparel will be placed at free merchandise Zone in the store and must have free merchandise tag. The store team can assist you to pick up your free Apparel before billing.
Q) Can I pick 2 apparel of Rs. 250 from the Free merchandise zone?
A) Yes
Q) Why does customer need to pay Difference amount of Apparel which is more than Rs. 500 MRP?
A) AS per management decision, since there are only select merchandise available @ Rs. 500 & under. For e.g. If a customer selects an Apparel of Rs. 800 MRP, he/she will have to pay the difference amount of Rs. 300 at the time of billing. Alternatively, the customer can choose not to pay the difference amount and not opt for the Free Apparel
Q) Can I have some information on the Free GVs?
A) Every bill above Rs. 2000 is eligible for GVs. Each GV value is Rs. 600 (on purchase of Rs. 1500). These can be redeemed in the months of January and February 2019.
Q) When will Future Pay cashback get credited?
A) For all customers eligible for future Pay cashback, will get credited in their Brand factory Future wallet. For e.g if customer eligible for Rs. 300 cashback, Rs. 150 will be credited on January 15th valid till 31st January 2019 and Rs. 150 on 15th February valid till 28th Feb 2019.
Q) What if I don't have Future Pay wallet?
A) To avail cashback customer needs to download Future pay wallet app from Play store for android phones and App store for iphone users. The same will also be communicated to customer via SMS after billing
Q) Ticketing (Rs. 100 & Rs. 250) – online & offline
A) Free shopping Weekend this year will be a ticketed event like the previous year. Tickets will be in denominations of Rs. 250 which is the Premium Pass (Early bird pass x admit 2 people) and Rs. 100 which is the Classic Pass (General entry pass x admit 2 people). These tickets can be bought online at brandfactoryonline.com, or on the Paytm App & Site, Insider.in website and at any of our stores through a physical ticket. (Screenshot of Landing page)
Q) What does the Rs. 250 Premium Pass guarantee?
A) Rs. 250 Premium Pass gives the customer the right to entry between 8 am onwards before anyone else on any one specific day of the sale
Q) What does the Rs. 100 Classic Pass guarantee?
A) Rs. 100 pass gives the customer guaranteed entry from 11 am onwards at any store
Q) Is there a Cash refund on the ticket?
A) Tickets once bought cannot be refunded back in cash. Customer will be given fully redeemable GV or M-coupon of the entire value of his ticket which will be valid between 18th – 31st December, 2018
Q) How will I get Ticket Refund in December through paytm?
A) If customer has bought Ticket online he will be sent a M-coupon code of the entire value of his ticket via SMS or notification
Q) How will I get Ticket Refund in December if I have bought ticket at store?
A) If customer has bought ticket at store he will get a fully redeemable Physical GV of the value of the ticket at store. This Physical GV can be redeemed